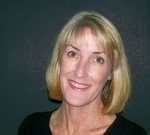 730 Haddon Ave
Collingswood , NJ 08108
856-858-2200 Ext.21
856-854-5019 fax
609-230-9720 cell phone




Receive Email Alerts from Me

Dale Chimel, a Realtor Associate with Main Street Realty, has been a resident of Collingswood for nearly thirty years. She and her husband have raised their three children here, all graduates of Collingswood High School.
With strong community values, she has volunteered for numerous activities from being cookie mom for the girls scouts, PTA board member, swim team, as well as the creative director behind the costuming for the children's and youth theaters in town, to name a few.
Having graduated from Drexel University with a BS in Design and Merchandising, she has extensive sales and design experience. Becoming a realtor was a natural progression of skills and talents that will greatly benefit you as you look to find a new home, whether to rent or buy, or as you prepare to sell your home. She will be there to guide you through the process. Compassionate, detail oriented, and the ability to follow through are traits you will come to count on when you work with Dale. She looks forward to helping as many, as possible, realize the American dream of home ownership.